---
Breezes Salon and Spa
**We are hiring!!***
Seeking a licensed hairstylist.
Part-Time position available.
The ideal candidates should have the following key skills and qualifications; a clientele, Positive Team Player attitude, Experience with Front end, and scheduling.
Great Customer Service attitude.
Creativity.
Maintaining a tactful, friendly manner.
Communication skills.
Openness to learning new ideas and techniques.
Attention to detail.
Cleanliness and good personal grooming.
Please send your resume to
breezessalonandspa@gmail.com
or drop into the salon in person at 281 Restigouche Road.
---
Looking for self-motivated and professional hairstylists to join our Team!
Part and Full-time positions available at Moncton, Dieppe, and Riverview locations!
Attractive Service and Product Commission
Insurance Benefits (Medical, Dental and Life)
Training from Matrix, Redken and other leading brands
Whether you're fresh out of cosmetology school or a seasoned pro, you'll find a generous benefits package and a best in class education program.


There's never been a better time to become part of our fun, knowledgeable team at First Choice Haircutters.


For more information call: Anita Sequeira (506) 962 2054 or Walter Sequeira (506) 962 3800.
---
Busy nails and esthetics spa
McAllister Shopping Mall, Saint John, NB.
We are looking for 3 full-time nails/esthetics technician that is ready to take on lots of customer at a very busy location. We offer our technicians 50/50 pay and we provide all tools and sanitary products needed. Licenses required, a minimum of a year experience preferred but we are willing to train the right individuals. High hourly rate to start but we are flexible with commission-based wages and rent a chair/room option. Applicants must have a license and be ready to handle an energetic schedule.
Please feel free to call if interested and ask for Jennifer at 506-566-0789
---
DECH Auxiliary Hair Care

Seeking an experienced Hair Stylist for our salon located in the Dr. Everett Chalmers Regional Hospital.
The DECH Auxiliary owns and operates DECH Auxiliary Hair Care. Our salon has been in operation for over 40 years and is located on the second floor of the Dr. Everett Chalmers Hospital.
We are looking for a mature, experienced, professional hairstylist to work 4 days per week, no weekends or evenings. An established clientele would be an asset but is not necessary. Experience working with seniors would also be an asset. You should have excellent communication skills, be reliable, client-focused, dependable, flexible, and a team player.
We offer an hourly rate plus a performance-based commission as well as health and dental benefits.
Please email your resume to
Sheila.bartlett@horizonnb.ca
---
Lavish Aesthetics Studio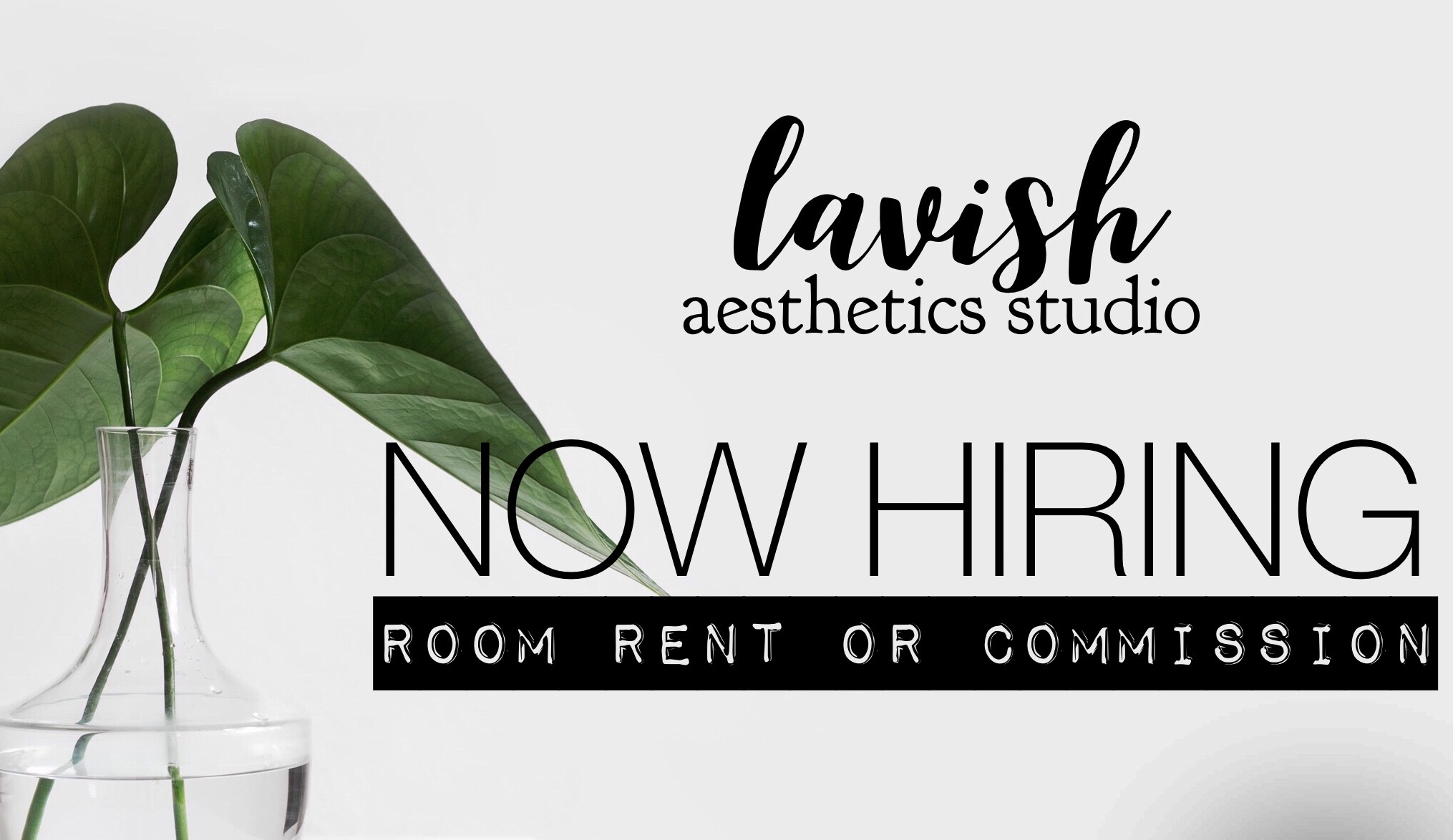 I am looking for a nail tech/lash tech/aesthetician to rent a table and share a room with me!
(I can offer commission until comfortable with going fully on your own.)
The position is just for one lucky individual.
I am slowly getting out of doing lashes & will mainly be focusing on nails & derma planing.
The room is just shared with me and I occasionally do lashes and some brow waxes. Which we can easily book around while using our online booking system.
The entire suite is brand new. Everything including a bed and table and chairs is included in rent.
I supply
-Furniture (desk, chairs, bed, bedding.)
-Towels
-Cleaning supplies
-Coffee & Tea for clients
-Online Booking System
-Facebook Page -Help with building clientele (I myself have a large clientele & constantly get messages so I can give you a hand in building)
-Furniture
-Heat pump
-Sanitation liquids
-Steam sanitizer (autoclave)
-Laundry
-Night Outs & Dinners
-Loads of parking
Rent would be $120 weekly. Paid on the Friday of each week.
I am able to share any and all gel colors & we can pitch in on acetone & alcohol together if you like.
I am looking for someone who is willing to learn and grow with me. I can build you a clientele as well. I want a fun, down to earth Aesthetics Studio.
I know renting can be scary & I would offer commission at the start to help you out. Until you get to a point where renting would be ideal.
---
Casino New Brunswick
Get your game-face on and start your new career here at Casino New Brunswick!
What do we have to offer?
- Health/Dental Benefits
- Paid Personal Days Off
- Staff Meal Discounts
- FREE Parking
- An Employee Assistance Program
The Aesthetician will provide efficient and courteous aesthetic services to each guest according to the policies, procedures, quality standards and services established by the management team as well as the Cosmetology Association of New Brunswick and for the satisfaction of all internal and external guests.
Other duties and responsibilities include, but are not limited to: having knowledge of all the spas services and products, provide quality aesthetics services (including manicures, pedicures, polish changes, waxing, facials, make-up, body wraps, and scrubs) following the protocols outlined by the spa, maintain professional notes and files, stocking and cleaning.
Please send your resume to
jobs@casinonb.ca
We thank all applicants for their interest; however, only those selected for an interview will be contacted.
---
Mudwraps to Manicures
Esthetician
We are looking for an experienced full-time Esthetician to join our amazing team! Must have at least 2 years of experience, mature, energetic, flexible, and truly excited about the esthetics industry! Experience in skin resurfacing and advanced pedicures are an asset. We offer competitive wages, incentives, health benefits, continuing education, and a beautiful, clean spa overlooking the Bedford Basin to work in. We believe in exceeding our client's expectations and you should too!
Greet customers upon arrival and guide them through our list of products and services when necessary
Perform facials and other skincare services
Upsell lotions, creams and other skincare products
Participate in continuing education programs and staff meetings
Provide skincare consultations for customers with troublesome skin or problem areas
https://www.mudwrapstomanicures.com/
---
La Spa Salon

We are looking for a Hair Stylist to join the industry forerunner.
La Spa Salon Moncton has Full-Time positions available Now!
Work Hard ... Be Rewarded!
Seeking an experienced Stylist – with Clientele.
Previous knowledge of Aveda products will be considered an asset – or a willingness to learn!
Must be a team player who is able to multitask and ask for help if needed.
You are warm and inviting to guests, also able to rebook.
If you are up for the challenge to perform at your best ever, please email your resume to:

laspa@nb.aibn.com A.S.A.P.

La Spa Salon
1579 Mountain Rd, Unit 5
Moncton, NB
E1G 1A3

---
The Head Shoppe

Regent Mall
Seeking a certified stylist to join their growing team.

Do you like a challenge and to be paid for your top performance? Then we're the place for you! One of the most attractive elements of our salon is its performance-based pay system, offering the highest service commission available, plus health and RRSP benefits, ongoing education, media opportunities, and much more!

We believe the most important part of a business isn't the logo or the catchy slogan - it's the people. And there's no question we have some of the best people in the industry working with us every day delivering exceptional service and value to our guests.

If you like to have fun, you are friendly, have a great attitude, and are committed to delivering an amazing experience to our guests, then come join our team!

To apply, please email resume to Kim at kwyers@headshoppe.ca.


---



LSD Salons Incorporated



We offer modern and new services to clients looking to relax and enjoy a fun upbeat yet relaxing salon and spa environment.

We are looking for passionate and motivated individuals to join our salon team!

Benefits include:
-hourly or salary wage
-performance-based commission
-health and dental benefits after three months (this includes coverage for massage, physio, and other important body-strengthening and health managing services)
-great and competitive discounts and services and products
-further education and certification in your field

If you hold or are currently in the process of obtaining your CANB license, we'd love to chat!

Apply by sending your resume and cover letter to lsdsalons@gmail.com